Plasma Spheres in Limerick, Ireland
Spooky Goings On at Limerick's Milk Market
by Alan Owens for The Limerick Leader
February 19, 2012
Something very spooky is happening in Limerick's 200-year-old Milk Market.
Strange, glowing lights have been captured on one of the market's 15 CCTV cameras, which some believe are ghostly spirits, or 'orbs', and which management have described as something that "defies logic".
The footage emerged when staff handed over tapes from their CCTV cameras to Gardai after the market was broken into in the early hours of Friday, January 27.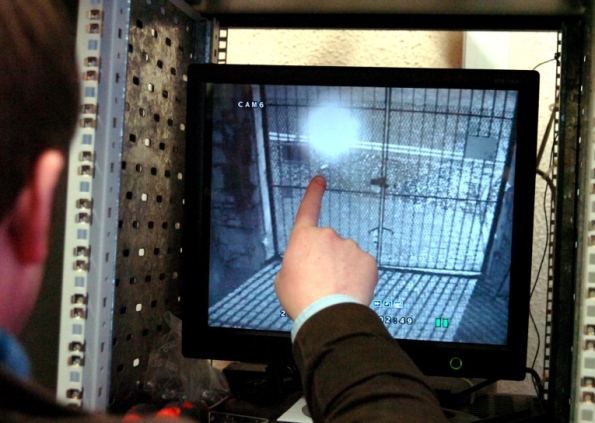 When staff themselves studied the footage, strange luminous lights were clearly visible from 4am on one particular camera, camera six, which is located in the arch above the main gate into the market, which itself has original stone work from when it was built in 1792 by the Pery family.
For more than an hour - and right up until the second that the break-in occurs - the lights are plainly visible on the cameras, jetting in and out of the shot, changing speeds and moving in irregular directions.
The Limerick Leader has personally seen the footage and is perplexed, as is Milk Market manager David O'Brien.
"We have looked at the footage, it defies logic, there seems to be no rhyme or reason to it - we have looked at it and it leaves us baffled, very baffled," he said.
"I am as broad minded as the next person, it is puzzling me, it is puzzling everybody else, I am not somebody who goes down the road of thinking it is hocus pocus stuff, but everybody who has seen the footage is mesmerised by it, it is very different," he added.
A local fortune teller who does readings in the Milk Market believes the light in the footage is an "orb".
"I have seen the footage and it looks like an orb, which are spirits," said Tina Scully.
"In the manifestation of a spirit, they begin first as an orb. There is a long history attached to the market, it has a Famine history and workhouses and a lot of bad things went on there and souls can get trapped like a time warp between worlds, they can't pass from one to another.
"There are energies in the market place - I am absolutely convinced of that," she added.
A local security guard who has stayed over night in the market when concerts have taken place concurred that he had seen "moving lights" in the Milk Market which "freaked" him out.
"I was getting a feeling that someone was watching me. I just saw a bright light in the corner, constantly moving, on the left hand side, over towards the gate," said the guard, who did not wish to be named.
"I know other people down there have said the same. It is like a moving light - I could see the shadow of something down on the market floor walking from gate to gate," he said.
Ghost Hunt Ireland, who carry out paranormal investigations. are said to be keen to come down and carry out a study of the premises. Fortune teller Ms Scully, who carries out regular readings in the Milk Market, said she would welcome such a move.
"I might actually stay over night myself," she said. "It would be interesting. People are always trying to find out if there is something after death, what happens to them," she added.
There has been some kind of functioning market on the site of the Milk Market for more than 500 years, but it was in the late 18th century that it was officially established. It was redeveloped to the tune of 2 million euros and reopened in June 2010 as a modern, all-weather facility under a 1.8 tonne, half acre canopy, or "Ireland's largest tent" as architect Michael Healy has described it.
Analysis
The very brightly glowing objects recorded on this Limerick, Ireland security video camera defy any commonplace explanation and stand firmly as evidence of hyperdimensional activity now taking place in many 'hotspots' or focal points of infrasound resonance.
Another such event involving small, glowing, other-worldly objects took place decades earlier in Kera, Japan, where several schoolboys actually took possession of extraterrestrial objects like the ones captured on video in Limerick.
Limerick, Ireland (52.66°N 8.63°W) is 2,543 miles from Giza, comprising 10.2% of the Earth's mean circumference (of 24,892 miles). Other infrasound focal points in Ireland situated along this 10.0% distance include Beaufort, Galway, Longford, Glasgow and Dublin.
The mathematical relationship of this resonant site within the global pyramid network reveals the invisible quantum connections linking such anomalous events related to solar activity. This pattern of intense solar flares and the resulting infrasound fires at focal points around the planet will culminate in the intense auroral events of December 22, 2012.