Resonant Standing Waves Cause Spontaneous Acceleration in Toyota Vehicles
Are Cosmic Rays Causing Toyota's 'Sudden Acceleration' Problem?
by Ian O'Neill for Discovery News
March 29, 2010
Toyota has suffered from crippling bad press after the car manufacturer recalled millions of vehicles to address a fault that causes an inexplicable acceleration when driving. This fault is having deadly consequences and has been blamed for more than 100 possible deaths.
The company has been busy looking for the cause of the issue, repairing mechanical faults (such as sticky pedals and floor mats) with 13 affected models, but are they looking in the right place?
Although this might sound like an "out there" theory, federal regulators are now investigating whether this 'sudden acceleration' is being triggered by high energy particles from space.
Mars Attacks
Cosmic rays are known to impact our atmosphere and we know they can damage sensitive electronics in space.
Many space probes have had dealings with the cosmic menace -- including NASA's Mars Reconnaissance Orbiter (MRO) -- often forcing onboard computers to switch to safe mode to spare the system from further damage.
In the case of the MRO, high-energy protons are thought to be behind a recent outage, originating from the sun (after being accelerated by explosive magnetic events such as flares) or from deep space, possibly blasted our way from supernovae (although deep space particle acceleration mechanisms are not fully understood).
But the MRO is in the vacuum of space; how could cars be hit by high energy protons when we are blanketed in a protective atmosphere?
Terrestrial Assaults
Cosmic rays can penetrate deep into our atmosphere, colliding with atmospheric molecules on the way. Even the Large Hadron Collider's (LHC) sensitive particle detectors measure cosmic ray events, routinely detecting the particles generated after impact.
But should a computer's processor suffer a direct hit, data can become corrupted, generating calculation errors. Sometimes these errors can cause a lot more than just interrupting your Wii Fit training session, people's lives have been put at risk.
In 2009, it's thought that a cosmic ray event was to blame for the bizarre behavior of a Quantas Airbus flight off Australia's northwest coast. The aircraft took two rapid dives, seriously injuring an attendant and passengers, before control was regained. An investigation revealed the onboard computers were functioning perfectly, but new programming was added to the Airbus fleet to filter out cosmic ray "spikes" detected in the computer's calculations.
Even the computer processor manufacturer Intel has announced plans to protect their increasingly powerful, yet increasingly vulnerable microchips with cosmic ray detectors. The detectors are intended to sense an energetic particle impact before commanding the microprocessors to re-process the calculations that may have been corrupted, thereby smoothing over any errors.
"The risk from cosmic rays may not be thought of as a big problem on a single computer with a single chip, as there is the potential for error only perhaps every several years [...] on a supercomputer with 10,000 chips, there was the potential for 10 or 20 faults a week." --BBC
More Research Required
Could it be that Toyota has become the first recorded case of automobile technology being impacted by single cosmic ray events? After all, Toyota has been a world leader in car electronic controls, adding more sensitive processors to onboard computers, could it be that they have fallen foul of these high energy space invaders?
Although I have no idea about the number of microprocessors that can be found on board an average Toyota when compared with other makes of car, I'm skeptical that cosmic rays could have caused so many sudden acceleration events. Also, it's not as if Toyota isn't aware of the risk, saying their processors are "robust against this type of interference."
But it's not totally out of the realms of possibility, so it is prudent to investigate the matter further especially as our computer technology becomes more vulnerable.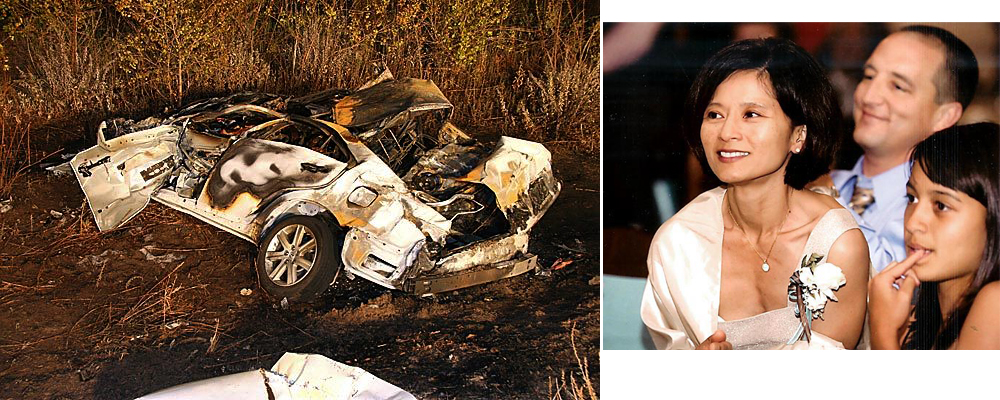 Toyota: At Least 56 Deaths from Sudden Acceleration... Horrifying Accounts of Fatalities [Video]
by Stuart Pfeifer, Carol J. Williams and Robert Faturechi (originally for the LA Times)
February 28, 2010
At least 56 people have died in U.S. traffic accidents in which sudden unintended acceleration of Toyota Motor Corp. vehicles has been alleged, according to complaints filed with the National Highway Traffic Safety Administration, lawsuits and police and state highway patrol reports. Off-duty California Highway Patrol Officer Mark Saylor was driving through rush-hour traffic in suburban San Diego when his Lexus took off like a runaway rocket. With him were his wife, Cleofe Lastrella, their 13-year-old daughter, Mahala, and Cleofe's brother, Chris Lastrella...
Some of the victims' names are unknown because NHTSA did not disclose them and they could not be confirmed through other sources. A Toyota spokesman declined to comment, saying the company does not discuss cases in which litigation has been, or could be, filed. Here are the accounts of those fatalities, based on public records:
Date: March 2, 1992
Victim: Stanley Sirnik
Location: West Virginia
Model: 1992 Toyota 4Runner
Details: When his sport utility vehicle suddenly began to accelerate on a winding road - his brakes ineffective and his cruise control locked - Stanley Sirnik drove up an embankment to avoid an approaching cliff, according to a complaint filed with the National Highway Traffic Safety Administration. The 1992 4Runner, which is not included in any recent Toyota recalls, flipped and Sirnik was killed instantly, according to the complaint, which was filed by Sirnik's wife. Sirnik had been traveling about 40 mph before the unintended acceleration, according to the complaint. Sirnik's brother, a passenger in the vehicle, was badly injured, the complaint said.
Date: September 4, 2003
Victim: Maria Cafua
Location: Wilmington, Massachusetts
Model: 2002 Toyota Camry
Details: Maria Cafua, 44, was in the middle of her early morning commute when the woman's 2002 Camry accelerated across three lanes before being broadsided by another car in the fast lane, according to relatives and a complaint filed with the National Highway Traffic Safety Administration.
The accident on Interstate 93 on a rainy day in Wilmington, Mass., put Cafua in a coma. The Portuguese immigrant died eight months later. Cafua is survived by her husband and three children, who were 23, 18 and 10 at the time of the accident. The 2002 Camry is not included in Toyota's recent recalls. Still, David Cafua, now 29, said he believed the accident that killed his mother was caused by a defect in the car.
He said his mother had been taking the same route to her factory job for 12 years. The commute to nearby Watertown was too familiar, he said, and Cafua too cautious of a driver to be involved in such a freak accident. For now, he said, the family has no intention of taking legal action against the automaker.
Analysis
Among all of the growing technology glitches, Toyota's spontaneous acceleration problem is among the most lethal, along with the spontaneous combustion of cellphones and household appliances, and electrical shock by standing wave resonance in hard-wired buildings. The best safety procedure to make yourself aware of in case of spontaneous acceleration is this: shift the vehicle out of gear into Neutral, which would allow the engine RPM's to surge without actually accelerating the vehicle, while maintaining power steering control.
While the nature of the many documented events of sudden acceleration in Toyota vehicles is correcty deduced by the author of this article, and the occurence of these events is directly related to the drivers being in focal points of infrasound standing waves as revealed by the resonance maps presented throughout this site. A large survey of spontaneous acceleration malfunction events, locations and georelationships would provide a wonderful insight into the complex nature of these lethal electronic surge malfunctions.
Considering the vast implications of these findings to the life of the average person, it is imperative that the theory of infrasound standing wave resonance be applied to protecting humanity from the serious dangers now posed by the entanglement of the modern lifestyle with hard-wired homes and automated transport, which will certainly be destroyed by the major electromagnetic upheavals which will culminate in the magnetic reversal of December 22, 2012.