Infrasound Pulsations in Sydney, Australia
Australia: Inner West's Mystery Noise Creates Buzz Abroad
by Deborah FitzGerald for the Inner West Courier
October 26, 2011
A mystery noise in the form of a persistent hum or buzz has residents across the inner west scratching their heads and reaching for the ear plugs.
When Neil Hill of Newtown wrote a letter to the editor about such a hum and it appeared in the Courier's October 6 edition, he had no idea the response would be immediate and international.
John Berry, who lives opposite Sydney University, said a continuous humming noise had disturbed his sleep for years but his investigation of the noise had been fruitless.
"Sydney University has mechanical equipment running 24/7 so it seemed the most logical source," Mr Berry said.
A noise consultant hired by the university failed to identify any problem - and Mr Berry said this week it was almost impossible to identify the source of low frequency noise. Balmain's Rosa Needham was glad to hear she was not the only one hearing a consistent hum. She tried to find the source but to no avail.
"It certainly seems to be worse in the early hours of the morning but that's probably because it is so quiet at night," Mrs. Needham said, adding: " ... I try not to focus on it too much."
Low-Frequency Humming
When Mario Grech from the sleepy village of Woodland, England, received a copy of the Inner West Courier from his brother in Marrickville, he was surprised to read a mysterious hum was being heard on the other side of the world.
A similar mystery noise has been plaguing some of the villagers of the rural town. His wife Marilyn described the noise as a low-frequency humming noise.
"I hear it between midnight and 4am and it keeps me awake," Mrs Grech said.
Mr Grech described Woodland as a quiet little town with one street, one shop and a pub.
He said investigations had revealed that people all over the world were hearing a similar hum but no common source had been identified. "It's been suggested that it could be underground mines but that has not been proven."
Mystery Fire Destroys Home
by Lauren McMah for The Fairfield Advance
June 24, 2011
Fire crews from Fairfield, Smithfield and Chester Hill responded to the house fire at Ravenswood St, Canley Vale last week.
Fire investigators are still determining the cause of a house fire in Canley Vale last Tuesday.
At about 2.30pm emergency crews were called to a property on Ravenswood St after a nearby resident noticed smoke coming from the house.
It took more than an hour for fire crews from Fairfield, Chester Hill and Smithfield to put the blaze out.
Fairfield station officer Bruce Fitzpatrick said no one was home at the time of the fire and no injuries were reported. However, the house suffered extensive damage.
"The house was made from weatherboard and had a timber frame, and an iron roof which helps keep the heat inside," Mr Fitzpatrick said. "The house is still standing but is totally destroyed.
"It's on a long battleaxe block, which actually made it difficult for us to gain access to it at the start, and there were houses on either side of it, but with enough separation that they didn't come in contact with the fire."
While the cause of the fire has not yet been established, Mr Fitzpatrick said house fires were common in winter because of the increased use of heating appliances...
What Now? Seen on Radar by Thousands Today Over Australia. What Is Going On?
by Colin Andrews
January 22, 2010
Two bizarre features seen on radar over the North West and South East of Australia today ( Jan 22, 2010). The ring over the south east appeared approximately 30 seconds before the bizarre red star over the north west.
I have received E-mails from all over Australia today reporting this rather extraordinary feature captured on the Australian Government Bureau of Meteorology radar site. This follows a series of so far u-explained features seen on Australian national radars since the 15th. For a while radar from the Melbourne Airport facility was out of action... Another strange ring appeared today over the South East of the country as seen below.
Today has been very lively surrounding this debate over what some are suggesting are weather modification experiments now under way over huge country.
I have received data also today that shows the HAARP facility has been ramped up (see their own monitoring data below).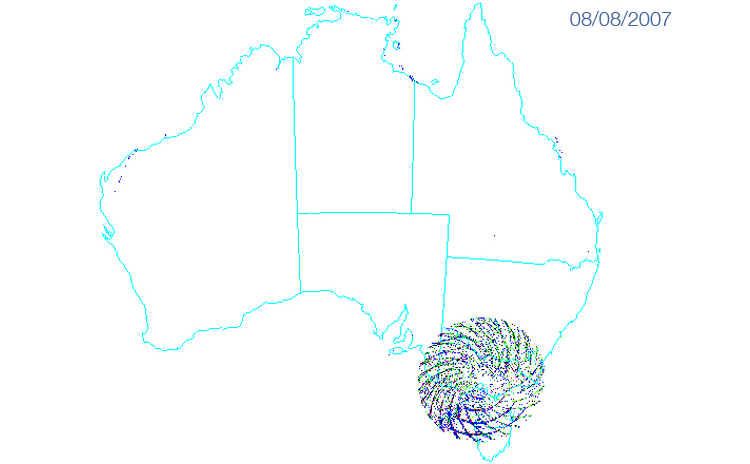 Sydney's Houses Shaking Not Earthquake
The Sunday Times
August 7, 2007
It might have felt like an earthquake to Sydney coastal residents but it wasn't, scientists say.
Dozens of Sydney coastal residents reported their houses shaking this afternoon but Geoscience Australia said it was not an earthquake.
Residents reported windows shaking about 3:45pm (AEST) in the eastern beach suburbs of Maroubra, Clovelly, Bondi and Tamarama, a Geoscience Australia spokesman said.
"We're pretty happy to say that it wasn't an earthquake," the spokesman said.
"At this stage Geoscience Australia has not recorded any seismic activity. It would certainly have to be very, very small for us not to register it."
Radio talkback callers also reported several houses shaking on Sydney's north shore and northern beaches.
Analysis
The unusual characteristics of these tremors - repeated booming and shaking certainly not coming from an earthquake - is a telltale sign of infrasound resonance. This type of fire is caused by strong electromagnetic fields emanating from the piezoelectric limestone bedrock by transducing extra-low-frequency soundwaves.
This same phenomena was recorded a day later on August 8, 2007 by Australian radar networks in a giant circular anomaly, presented above, that looks identical to crop circles from England. A recurrence of the same radar circle was recorded almost 2 years later, over Broome, Western Australia.
Sydney (33.88°S 151.21°E) is 8,962 miles from the Orion pyramids of Giza, Egypt, a distance that is 36.00% of the Earth's mean circumference of 24,892 miles. Waves of piezoelectric fires previously scorched Italy's Berici Hills and are simultaneously occurring in Ratria, India, Bodibe, South Africa, Seattle and Santa Barbara, USA.