Infrasound Pulsations in Virginia Beach, Virginia
Virginia, US: 'Unnerving' Rumble Felt Across Hampton Roads Remains a Mystery
by Kristin Davis for The Virginian-Pilot
May 12, 2011
We may only ever know it as The Night the Earth Rattled. The seconds-long reverberation at approximately 7:20 p.m. Tuesday sent neighbors to porches, piqued slumbering pets and launched a thousand theories. But nobody can say for sure what it was - not police or seismologists or meteorologists or NASA or Oceana Naval Air Station or the Virginia National Guard.
"No clue," said Scott Mohr, a spokesman for Joint Expeditionary Base Little Creek-Fort Story.
People reported feeling it from Suffolk to Newport News to the Eastern Shore and beyond. The intensity of the grumble was perhaps greatest in Virginia Beach, where five calls came in to 911 and firefighters set out in search of the source of an explosion.
None was found, said Lori Stiles, communications operations manager for the city. She felt it, too, from her home in Dam Neck, a sensation like that of an approaching storm that caused the house to creak.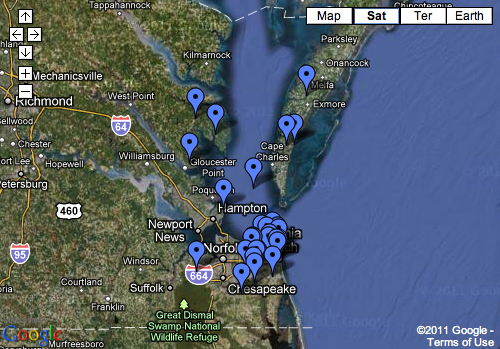 Dawn West thought for sure she was in the midst of an earthquake at her home in the Bayview area of Norfolk, and she ought to know: "I was in the great quake of 1989 in San Francisco," she wrote in an email, "and yes, the feelings come right up when we heard and felt what we did last evening!"
Only it wasn't anything seismic, as far as the U.S. Geological Survey National Earthquake Information Center can tell.
"I don't know what it's related to," said John Bellini, a geophysicist at the Golden, Colo., center. "We get a lot of reports like this out of northern North Carolina and along the southern coast of Virginia, and we're not usually able to determine the cause."
Bellini said he's heard of military bombing off the coast. "I'm not saying that's what it was, but these types of reports seem to come up a lot in that area."
Two seismographs in Richmond and Virginia Beach might have held the answer. But both were offline Tuesday evening. Richmond's machine, operated by Virginia Tech, was experiencing power problems. Tidewater Community College had shut its seismograph off at its Beach campus because of nearby construction.
Doug Otto felt his house on 70th Street in Virginia Beach rattle at 7:19 p.m. for a good five seconds: "This is literally earthshaking - like a giant picked up your house and just sat it down."
It did shift his empty hot tub about 6 inches, Otto said. "I tried to jump on it to put it back down. I'm 200 pounds and can't get the thing to budge." His Google search on seismic activity turned up nothing, of course.
"I'm sitting there thinking of conspiracy theories," he said. "Maybe the Navy is working on some new stealth thing. Based on what's been described, it's probably an acoustic disturbance," said Martin Chapman, director for Virginia Tech's earthquake observatory.
Basically, an explosion a couple of miles offshore could be heard on land because sound waves can travel great distances over water, he explained. "I don't know what causes it, but I suspect it might have something to do with the military." If all else fails, it seems, blame the military.
Patrick Daugherty, who lives off Birdneck Road in Virginia Beach, said he heard no planes take off or land.
"Normally on Tuesday, the jet noise occurs every few minutes. All I heard within the hour was a few helicopters coasting in the distance," Daugherty wrote in an email. "I just want to know what that was and get to the bottom of it." That is unlikely, if history is any indication.
In late March 2009, dozens of people reported bright lights in the sky and a boom that shuddered houses in Norfolk and Virginia Beach. Scientists said it was most likely a part of a rocket or a meteor falling to Earth. But nobody knows for sure.
Analysis
These unusual low-frequency rumbling sounds being heard by residents of Virginia Beach are also simultaneously being experienced, reported and video-recorded by concerned residents in Rochester, Minnesota, McCalla, Alabama and throughout north Florida.
The infrasound which is now being focused onto the Virginia Beach vicinity is being transduced by the Orion pyramids of present-day Giza, Egypt, which act as a nonlinear lensing system for resonantly balancing the geomagnetic fields of Earth as stimulated by coronal mass ejections from the increasingly active sun.
Virginia Beach, Virginia (36.84°N 75.97°W) is 5,851 miles from Giza, or precisely 23.5% of the Earth's mean circumference distance (of 24,892 miles). This Atlantic community was also home to the well-known 'sleeping prophet' Edgar Cayce, and significantly contributed to his ability to access the Akashic field. Other nearby events related to this surging of infrasound resonance include Wilmington, North Carolina.
The mathematical relationship of Virginia Beach within the global pyramid network reveals the invisible quantum connections linking such anomalous events related to solar activity. This pattern of intense solar flares and the resulting infrasound fires at focal points around the planet will culminate in the intense auroral events of December 22, 2012.
This website has covered many major stories involving infrasound resonance convergence points, including Llanidloes, Mawnan, Hull, Saffron Walden, Bridlington, Goa, Klai, Auckland, Sydney, Ontario, White Rock, Ranchlands, and in the US in Newport, Anderson, Kimberley, Menomonee Falls, Pelham, Richmond, Nashville, Knoxville, Knob Noster, Denver, Seattle, Novato, Arroyo Grande and Atwater.
The cases have become so severe that spontaneous combustion of objects by piezoelectric induction has been recurring in spates - in areas such as Tenerife, Babura, Lalapansi, Mapuve, Bodibe, Landovica, Longford, Glasgow, Messina, Peschici, Berici, across northern Greece, Ratria, Kakori, Mumbai, Kishtwar, Rangrik, Kota Baru, Santo Tomas, Georgetown, La Pampa, Melipilla, and in the US in Seattle, Colorado Springs, Pueblo, San Mateo, Vallejo, San Francisco, Santa Barbara, Brentwood and New York City.