Piezoelectric Fires in the Heating Elements of Airplane Windshields
Windscreen Cracks During Flight Over Norway, Smoke Fills Cockpit
by Arnhild Aass Kristiansen for Dagbladet
May 12, 2011
SAS-flight forced to turn around after drama in midair. "The captain couldn't speak with us because he was wearing an oxygen mask," passengers report.
A SAS flight on its way from Oslo Gardermoen airport to Stavanger airport had to return this afternoon to Gardermoen due to smoke in the cockpit and a cracked flight window.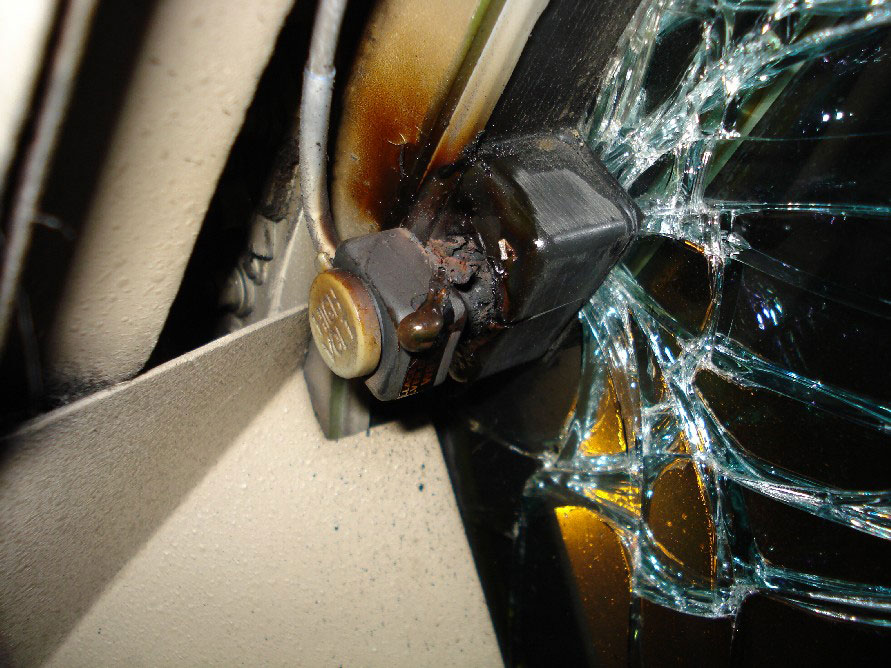 Unusually enough, these two things occurred simultaneously. It is too early to say why smoke developed in the cockpit. As a rule, it's about cabling or smoke entering from outside, but this can only amount to speculation, says Kenneth K. Vikse, communication director at SAS, who emphasizes that the passengers never were in danger.
"It appears that even though this was unusual, the danger did not get out of control. The captain followed procedures, turned around and landed the flight without complications, though routine emergency precautions were taken by airport personnel", said Vikse...
Analysis
The extremely unusual circumstances surrounding this series of unprecedented events points directly to infrasound as the active force that shattered the windshield of the airplane over Norway, as well as 13 previously reports of shattered airplane windshields at the Denver Int'l Airport from February 16, 2007, and the further 3 shattered windshields reported on January 20, 2011.
Crucial facts rule out cold, wind and flying debris as possible causes - no debris was seen by any of the pilots, and the airplanes were in the air, on the DIA runway and at the terminal gates.
Furthermore, the short timeframe whithin which these events occurred suggests that in fact standing waves of infrasound resonance were responsible for shattering the many windshields. Low-frequency concentric radar anomalies centered exactly on the Denver Int. Airport have been reported on various occassions, and can also account for the other events like this case over Norway.
The research presented at this site reveals that the airport is being subjected to an inaudible infrasound resonance being erratically transduced by the pyramids of the world, in a pattern of heightening intensity that will culminate in the events of December 22, 2012.
Spontaneous electrical surge in Pekanbaru, Indonesia causes power blackout and mass seizures, killing 2, while city-wide transformer explosions result from power surges in Fort Worth, Texas. In yet another related case, cosmic rays are linked to 56 deaths by spontaneous acceleration malfunction in Toyota vehicles.
This website has covered many major stories involving infrasound resonance convergence points, including Llanidloes, Mawnan, Hull, Saffron Walden, Bridlington, Goa, Klai, Auckland, Sydney, Ontario, White Rock, Ranchlands, and in the US in Newport, Anderson, Kimberley, Menomonee Falls, Pelham, Richmond, Wilmington, Nashville, Knoxville, Mobile, north Florida, Knob Noster, Denver, Seattle, Novato, Arroyo Grande and Atwater.
The cases have become so severe that spontaneous combustion of objects by piezoelectric induction has been recurring in spates - in areas such as Tenerife, Babura, Lalapansi, Mapuve, Bodibe, Landovica, Longford, Glasgow, Messina, Peschici, Berici, across northern Greece, Ratria, Kakori, Mumbai, Kishtwar, Rangrik, Kota Baru, Santo Tomas, Georgetown, La Pampa, Melipilla, and in the US in Bellvue, Minneapolis, Soudan Mine SP, Colorado Springs, Pueblo, San Mateo, Vallejo, San Francisco, Santa Barbara, Brentwood and New York City.