Piezoelectric Explosion in Calaveras County, California
California, US: Mysterious 'Explosion' that Triggered Friday's Fire Under Investigation
by Scott Thomas Anderson and Bill Lavallie for the Ledger Dispatch
July 25, 2011
CAL FIRE investigators are looking into the cause of a fire that torched more than 80 acres of Calaveras County and burned up to the very edge of Amador County, threatening to burn the Mokelumne River's scenic Middle Bar run. As the fire reached its most dangerous peak Friday afternoon, witnesses and reporters observed CAL FIRE law enforcement questioning at least one man about how the blaze started.
Fire crews were first alerted to the blaze around 4 p.m. Friday afternoon. Emergency responders arriving at Gwin Mine Road were quickly told by witnesses that an old, beat-up truck had just "exploded and caught fire," tossing red embers that quickly ignited the dry weeds and greasewood. At least two people - reportedly a man and a woman - were seen escaping the truck without injuries.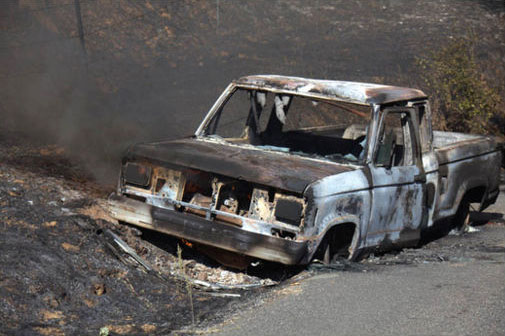 The first firefighters to confront the growing blaze realized that acreage was being consumed in every direction, as winds swept the fire up into the heavily wooded hills that over-look the Middle Bar run. Several buildings and homes were also threatened.
Helicopters from CAL FIRE and the U.S. Department of Forestry soon flew directly into a pluming smoke cloud that could been seen for miles in Amador and Calaveras counties. Time after time, the helicopters would sweep down to grab large buckets of water out of the river - in full view of a crowd at Middle Bar Bridge - and then douse the flames that were spreading just over the ridge. CAL FIRE tanker planes eventually began bombing the hillside over the Middle Bar run with clouds of pink fire retardent.
Amidst the action, a CAL FIRE investigator from the agency's law enforcement division located the man who had escaped from the pickup truck that had exploded. The man was questioned for an extensive amount of time about what had caused the truck to catch fire.
Later, the man identified himself to a Ledger Dispatch reporter on-scene as Robby Dale Ross of Valley Springs. While talking to the reporter, Ross emphasized that he had taken no actions that would cause the truck to mysteriously explode.
Ross was further questioned by CAL FIRE investigators and returned with them to the scene of the explosion. He was eventually allowed to leave. The cause of the fire is still under investigation.
Fire crews were still being dispatched to the Mokelumne River canyon Saturday morning, though containment efforts had spared the lauded Middle Bar run. As of this morning, the fire was fully contained.
Analysis
This spontaneous truck explosion can be understood in the broader context of other similar events taking place all over the world in the previous days, weeks and years of highening solar activity. Firefighters in Montana have described new pyrokinetic phenomena in recent years that cannot be accounted for by consideration of all previous standards.
To the continual dismay of investigators, natural gas explosions have spontaneously occurred in Brentwood, Long Island and Minneapolis, Minnesota, and threaten to continue in specific areas now identified as convergence points of infrasound standing waves transduced by the Great Pyramid of Giza, Egypt.
Calaveras County, California () is miles from Giza, or ??% of the Earth's mean circumference distance of (24,892 miles). Several other cases of unusual phenomena have been recorded in the region, including ...
This website has covered many major stories involving infrasound resonance convergence points, including Llanidloes, Mawnan, Hull, Saffron Walden, Bridlington, Woodland, Bolton, Malta, Goa, Klai, Auckland, Sydney, Ontario, White Rock, Ranchlands, Panama, and in the US in Newport, Anderson, Kimberley, Rochester, Menomonee Falls, Pelham, Richmond, Wilmington, Virginia Beach, Nashville, Knoxville, Mobile, McCalla, northern Florida, Knob Noster, Denver, Seattle, Novato, Arroyo Grande and Atwater.
The cases have become so severe that spontaneous combustion of objects by piezoelectric induction has been recurring in spates - in areas such as Tenerife, Lalapansi, Bauchi, Babura, Abuja, Mapuve, Bodibe, Hopewell, Tsholotsho, Landovica, Longford, Hull, Egham, Wisbech, Glasgow, Messina, Peschici, Berici, across northern Greece, Ratria, Kakori, Mumbai, Kishtwar, Rangrik, Kota Baru, Kuala Lumpur, Santo Tomas, Adelaide, Sydney, Georgetown, La Pampa, Melipilla, and in the US in Seattle, Soudan SP, New Ulm, Colorado Springs, Pueblo, Anderson, San Mateo, Vallejo, San Francisco, Santa Barbara, Clovis, Haverhill, Peabody, and New York City.