Piezoelectric Fires in Kuala Lumpur, Malaysia
Mall Closed After Gas Explosion
by Martine Arvalhos, Tevend Aniel, L Eey Enm Un, Joseph Kaosj, Tho Xiny I and Rashvni Jeets for the Star
September 29, 2011
Subyang Jaya: Empire Shopping Gallery has been closed as the authorities scrambled to determine the cause of a gas explosion which rocked the building, injuring four people.
The closure, which covers the entire complex that houses a hotel, commercial and residential units, is effective until the structures are declared safe by the authorities.
Empire Shopping Gallery is one of the most frequented and popular shopping malls here, attracting thousands of shoppers daily.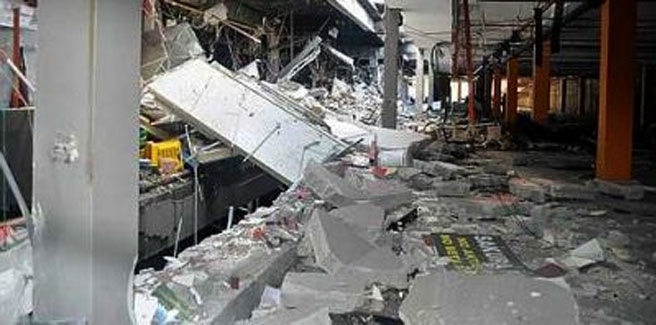 The explosion, which occurred at the ground floor of the five-storey mall at about 3.45am yesterday, also tore into the adjoining office block and studio apartments. Two other floors in the shopping complex were also damaged...
About 300 people were rescued and evacuated, including some 170 hotel guests who were relocated to nearby hotels for safety reasons, he said.
The effects of the explosion reached both ends of the mall, and all five levels recorded some form of damage.
Several windows as high up as the eighth floor of the 12-storey office tower were also shattered...
Mall general manager May Woo said all operations had been halted until further notice in the interest of public safety.
A preliminary report on the investigations is expected to be released by the fire forensics team within the next 48 hours, she said in a statement last night.
"We have taken the decision to halt operations as safety is our highest priority. We assure our tenants that this decision has been made after carefully considering all factors and advice from the authorities.
"I urge all parties to refrain from speculation and allow the authorities to carry out their investigations. We are also anxious to find out what caused this incident," she said.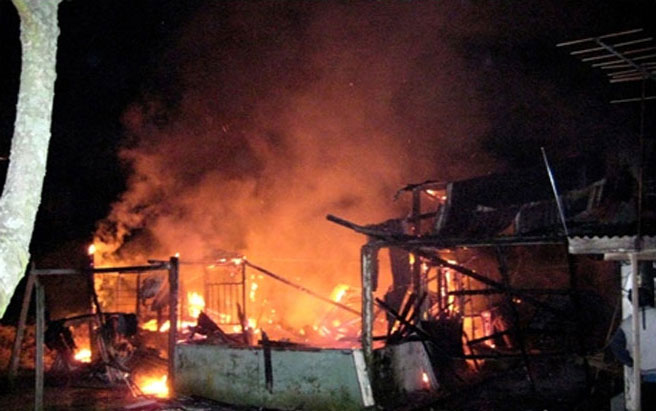 Mystery Fire Strikes Bukit Jalil Estate - (Video)
by Leven Woon for Komunitikini
May 7, 2011
A wooden house at the demolition-bound Bukit Jalil Estate was ablaze yesterday; half the building was destroyed and losses were estimated at RM5,000.
Coincidentally, the fire happened as the last 41 families at the estate face eviction, said Parti Socialis Malaysia central committee member, V. Selvam.
The fire took place at around 12am when the occupants of the house were at a wedding reception. House owner P. Gnasasasambathan said he was alerted by a neighbour at around 12.30am.
"The fire had been put out when I got back, but my washing machine, furniture and some cash went up in smoke," he said.
Gnasasasambathan, a deliveryman, stressed that he had not offended anyone to make them want to set his house on fire, and could not seem to find a cause for the blaze.
"I have been staying in this house since my father's time... this is the first fire that has ever occurred," he said.
Analysis
The fact that only 4 injuries were incurred by the gas main explosion in Subyang Jaya is remarkable. Other similar spontaneous pipeline blasts have occurred in Minneapolis, Minnesota and London, England, and caused mass casualties in a petroleum pipeline explosion in Nairobi, Kenya. The metal piping containing the pressurized flammable gas has become superheated in an energetic event that involves the impact of intense electrical ground currents caused by the coronal mass ejections of the Sun.
These unusual explosions are connected with anomalous electrical surges and piezoelectric fires that are now being caused all over the world by an unrecognized force: ultra-low frequency sound, far below the audible level of most humans. This infrasonic influence is building strong electrical currents in the metal objects like wheel-barrows, door-knockers and copper electrical wiring in the walls of homes, which then become hot enough to ignite the plastic sheathing surrounding the wires. In other cases, heated wires ignite bed mattresses and metal hangers ignite clothing.
The infrasound which is now being focused onto the Kuala Lumpur, Malaysia vicinity is being transduced by the Orion pyramids of present-day Giza, Egypt, which act as a nonlinear lensing system for resonantly balancing the geomagnetic fields of Earth as stimulated by coronal mass ejections from the increasing solar activity.
Bukit Jalil, in Kuala Lumpur, Malaysia (3.08°N 102.11°E) is 4,979 miles from Giza, or 20.00% (or 1/5th) of the Earth's mean circumference distance (of 24,892 miles). Subyang Jaya (just south of Kuala Lumpur), Malaysia (3.04°N 101.58°E) is 4,949 miles from Giza, at the 19.9% distance.
The Kuala Lumpur area is 721 miles from the piezoelectric temples of Angkor, Cambodia, which corresponds to 2.9% (or 1/36th) of the Earth's mean circumference, approximating the applied values of Fibonacci numbers 133 and 355 in percent and mile distances (see the Phi temple distances page for details). Other related events have also been taking place in the nearby areas of Kota Baru, Malaysia, Pekanbaru, Indonesia and Yogyakarta, Indonesia.
The mathematical relationship of Kuala Lumpur within the global pyramid network reveals the invisible quantum connections linking such anomalous events related to solar activity. This pattern of intense solar flares and the resulting infrasound fires at focal points around the planet will culminate in the intense auroral events of December 22, 2012.
This website has covered many major stories involving the spontaneous combustion of objects by piezoelectric induction has been recurring in spates - in areas such as Tenerife, Babura, Abuja, Bauchi, Jos, Omukondo, Onakaheke, Tsholotsho, Lalapansi, Goodhope, Mpumalanga, Mapuve, Bodibe, Bloemfontein, Hopewell, Cape Town, Landovica, Galway, Longford, Glasgow, Dublin, Coventry, Hull, Egham, Wisbech, Messina, Peschici, Berici, across northern Greece, Ratria, Kakori, Mumbai, Kolkata, Charajpura, Thiruvananthapuram, Kishtwar, Rangrik, Darwin, Rockhampton, Adelaide, Brisbane, Eaglehawk, Sydney, Georgetown, La Pampa, Melipilla, Nelson, and in the US in Seattle, Corvallis, Soudan SP, New Ulm, Colorado Springs, Pueblo, Anderson, Homosassa, San Mateo, Vallejo, San Francisco, Hope Ranch, Santa Barbara, Clovis, Calaveras, Haverhill, Peabody, Brentwood and New York City.