Piezoelectric Fire in Cape Town, South Africa
South Africa: Cape Town Shack Fire
by Katherine Robinson for New24
September 7, 2011
A fire in Kuils River Informal Settlement killed three people, including a pregnant woman and left 200 people homeless.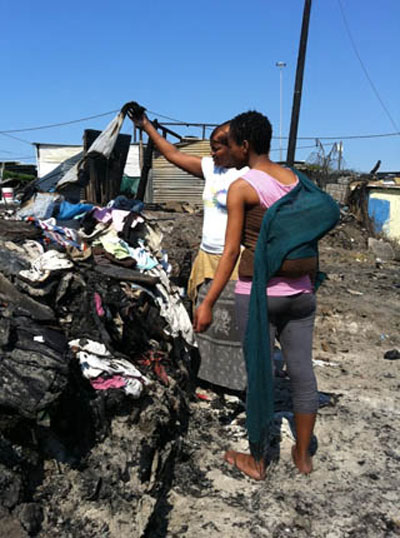 Nontombi Ntulwana and Nosakhe Mtolo examining their burnt belongings in Kuils River Informal Settlement...
Shack fires in Cape Town have killed 90 people this year. Last month 29 people died...
Analysis
These unusual fires are being caused all over the world by an unrecognized force: ultra-low frequency sound, far below the audible level of most humans. This infrasonic influence is building strong electrical currents in the metal objects like wheel-barrows, door-knockers and copper electrical wiring in the walls of homes, which then become hot enough to ignite the plastic sheathing surrounding the wires. In other cases, heated wires ignite bed mattresses and metal hangers ignite clothing.
The infrasound which is now being focused onto the Cape Town, South Africa vicinity is being transduced by the Orion pyramids of present-day Giza, Egypt, which act as a nonlinear lensing system for resonantly balancing the geomagnetic fields of Earth as stimulated by coronal mass ejections from the increasingly active sun.
Cape Town, South Africa (33.93°S 18.42°E) is 4,472 miles from Giza, or 18.0% of the Earth's mean circumference distance (of 24,892 miles). Very similar cases of spontaneous fires have been witnessed in other hotspots in South Africa, including Hopewell, Mapuve, Bodibe, and Bloemfontein. These types of fires will undoubtedly continue with the growing intensity of solar flare activity that will culminate in the dramatic events of December 22, 2012.
The cases have become so severe that spontaneous combustion of objects by piezoelectric induction has been recurring in spates - in areas such as Tenerife, Babura, Abuja, Bauchi, Jos, Omukondo, Onakaheke, Tsholotsho, Lalapansi, Goodhope, Nairobi, Landovica, Longford, Dublin, Hull, Egham, Wisbech, Glasgow, Messina, Peschici, Berici, across northern Greece, Ratria, Kakori, Mumbai, Kolkata, Charajpura, Thiruvananthapuram, Kishtwar, Rangrik, Kota Baru, Kuala Lumpur, Santo Tomas, Rockhampton, Adelaide, Eaglehawk, Sydney, Georgetown, La Pampa, Melipilla, Nelson and in the US in Seattle, Corvallis, Soudan SP, Minneapolis, New Ulm, Colorado Springs, Pueblo, Anderson, San Mateo, Vallejo, San Francisco, Hope Ranch, Santa Barbara, Clovis, Calaveras, Haverhill, Homosassa, Peabody, Brentwood and New York City.