Piezoelectric Fires in Thiruvananthapuram, India
The Hindu
August 1, 2011
A fire that broke out in a partially thatched shed adjacent to the Theerthapadamandapam, near the eastern entrance of the Sree Padmanabhaswamy Temple at East Fort, around 8.30 p.m. on Sunday, created tense moments for the local people as well as the huge media posse which had rushed over as soon as news about the fire near the temple broke.
There was no loss of life or injuries to anyone even though the shed was totally destroyed.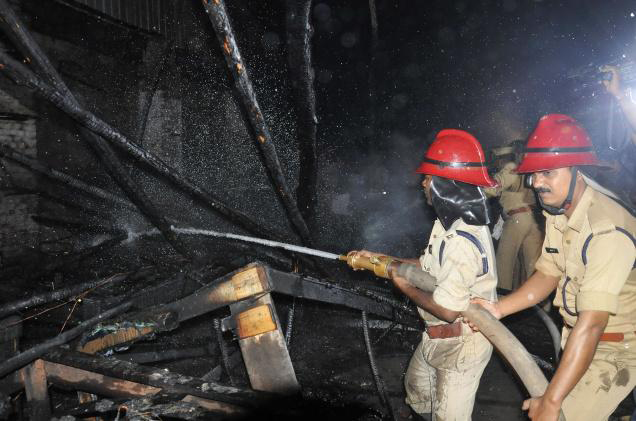 Seven units of fire tenders, from Chakka and Chengalchoola fire stations had to battle for over an hour to put out the fire, which had begun at the back of the shed. The shed, which used to house handicrafts, had been in disuse for over three months.
One of the traffic wardens, Ramachandran, on duty near the eastern entrance of the temple, was the first to have noticed the fire. He alerted the police and the Fire and Rescue Services.
Officers said the fire could have turned out to be a major disaster as there were gas cylinders inside the shed, one of which exploded while they were working to put out the fire. Two gas cylinders could be saved before these too exploded. The cause of the fire is yet to be ascertained. It could have been a short circuit or possibly, a fire which was started by a carelessly thrown cigarette butt, sources said...
Analysis
These unusual fires are being caused all over the world by an unrecognized force: ultra-low frequency sound, far below the audible level of most humans. This infrasonic influence is building strong electrical currents in the metal objects like wheel-barrows, door-knockers and copper electrical wiring in the walls of homes, which then become hot enough to ignite the plastic sheathing surrounding the wires. In other cases, heated wires ignite bed mattresses and metal hangers ignite clothing.
The infrasound which is now being focused onto the Thiruvananthapuram, India vicinity is being transduced by the Orion pyramids of present-day Giza, Egypt, which act as a nonlinear lensing system for resonantly balancing the geomagnetic fields of Earth as stimulated by coronal mass ejections from the increasingly active sun.
Sree Padmanabhaswamy Temple in Thiruvananthapuram, India (8.48°N 76.95°E) is 3,309 miles from Giza, or 13.3% of the Earth's mean circumference (of 24,892 miles). Other infrasound hotspots in India experiencing quite similar conditions include Ratria, Kakori, Mumbai, Kolkata, Charajpura, Kishtwar, and Rangrik.
This website has covered many major stories involving infrasound resonance convergence points, including Llanidloes, Mawnan, Hull, Saffron Walden, Bridlington, Woodland, Bolton, Malta, Goa, Klai, Auckland, Sydney, Ontario, White Rock, Ranchlands, Panama, and in the US in Newport, Anderson, Kimberley, Rochester, Menomonee Falls, Pelham, Richmond, Wilmington, Virginia Beach, Nashville, Knoxville, Mobile, McCalla, northern Florida, Knob Noster, Denver, Seattle, Novato, Arroyo Grande and Atwater.
The cases have become so severe that spontaneous combustion of objects by piezoelectric induction has been recurring in spates - in areas such as Tenerife, Babura, Abuja, Bauchi, Jos, Omukondo, Onakaheke, Tsholotsho, Lalapansi, Goodhope, Mapuve, Bodibe, Hopewell, Landovica, Longford, Hull, Egham, Wisbech, Glasgow, Messina, Peschici, Berici, across northern Greece, Kota Baru, Kuala Lumpur, Santo Tomas, Rockhampton, Adelaide, Sydney, Georgetown, La Pampa, Melipilla, and in the US in Seattle, Soudan SP, Minneapolis, New Ulm, Colorado Springs, Pueblo, Anderson, San Mateo, Vallejo, San Francisco, Santa Barbara, Clovis, Calaveras, Haverhill, Peabody, Brentwood and New York City.