Piezoelectric Fires in Waterford, England
Fire in Waterford Being Called a Mystery
by Aaron Gautreau for CD989
November 9, 2011
Fire officials are calling Wednesday afternoon's house fire in Waterford a mystery.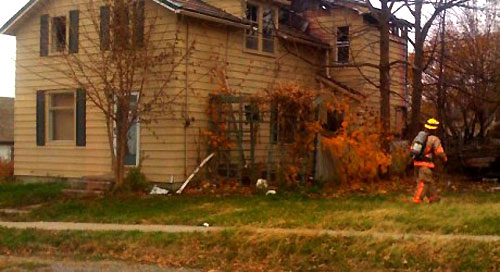 A home went up in flames on 33 Sovereign Road with no electricity, and with no-one living in the house.
Even more bizarre - the same home caught fire about a month ago.
Fire Prevention officer Ken Sheridan says they will be launching an investigation.
Analysis
The recurrance of such an unusual fire - in an abandoned house with no electrical power - deserves further investigation indeed, but does the Fire Prevention officer have all the information he needs to understand these repeating events? The physical clues are very few and the source of the fire is inaudible and invisible!
These unusual recurring fires are connected with anomalous electrical surges and piezoelectric fires that are now being caused all over the world by an unrecognized force: ultra-low frequency sound, far below the audible level of most humans.
This infrasonic influence is building strong electrical currents in the metal objects like wheel-barrows, door-knockers and copper electrical wiring in the walls of homes, which then become hot enough to ignite the plastic sheathing surrounding the wires. In other cases, heated wires ignite bed mattresses and metal hangers ignite clothing.
The infrasound which is now being focused onto the Waterford, England vicinity is being transduced by the Orion pyramids of present-day Giza, Egypt, which act as a nonlinear lensing system for resonantly balancing the geomagnetic fields of Earth as stimulated by coronal mass ejections from the increasing solar activity.
Waterford, England (51.81°N 0.10°W) is 2,193 miles from Giza, or 8.8% of the Earth's mean circumference distance (of 24,892 miles). Recent events occurring at other locations in England that are positioned along this same resonant distance from the Great Pyramid include piezoelectric fires in London, Surrey, Steeple, Egham and Wisbech.
The many ancient megalithic temples of the area, including such well visited sites as Stonehenge, Avebury Circle and Silbury Hill are also precisely situated along this sacred 9.0% radial distance. And, of course, this region is very well known for the multitudes of mandala crop formations that grace the regional seasonally, bring thousands of tourists annually.
The mathematical relationship of Waterford within the global pyramid network reveals the invisible quantum connections linking such anomalous events related to solar activity. This pattern of intense solar flares and the resulting infrasound fires at focal points around the planet will culminate in the intense auroral events of December 22, 2012.
Other widely reported examples of such extreme manifestations of this resonance are now simultaneously occurring in Tenerife, Freetown, Babura, Abuja, Bauchi, Jos, Omukondo, Onakaheke, Tsholotsho, Lalapansi, Goodhope, Nairobi, Mpumalanga, Mapuve, Bodibe, Bloemfontein, Hopewell, Cape Town, Landovica, Galway, Longford, Glasgow, Dublin, Crewe, Coventry, Hull, Messina, Peschici, Berici, across northern Greece, Ratria, Kakori, Mumbai, Kolkata, Charajpura, Thiruvananthapuram, Kishtwar, Gangyal, Rangrik, Kota Baru, Kuala Lumpur, Santo Tomas, New Norcia Darwin, Rockhampton, Adelaide, Brisbane, Eaglehawk, Sydney, Georgetown, La Pampa, Melipilla, Nelson, and in the US in Seattle, Corvallis, Soudan SP, Minneapolis, New Ulm, Pueblo, Waxahachie, Anderson, Bluffton, Georgetown, Homosassa, San Mateo, Vallejo, San Francisco, Clovis, Calaveras, Haverhill, Peabody, Brentwood and New York City.