Piezoelectric Fires in Tshiozwi, South Africa
Family Attacked by Mystery Fire
by Benjamin Ratshipanaga for the Limpopo Mirror
November 18, 2011
A mysterious fire that erupts without warning has been terrorising the Ratshipanga family of Tshiozwi. The poor family has lost a number of their belongings in the sporadic fires and are now appealing to members of the community to assist.
The fire first broke out at the house of Mr Benjamin Ratshipanga last Monday (7th). According to his daughter, Rhinete, the fire started soon after she had chased away a dog that was carrying around a tin of snuff. The mysterious fire erupted and her clothes caught fire. Fortunately it did not burn her skin. The following day the incident repeated itself, although this time it occurred when no one was inside the room. "I suddenly saw dark smoke coming from the other room. When we went to that room, we found that the clothes, furniture and food were on fire," says Benjamin.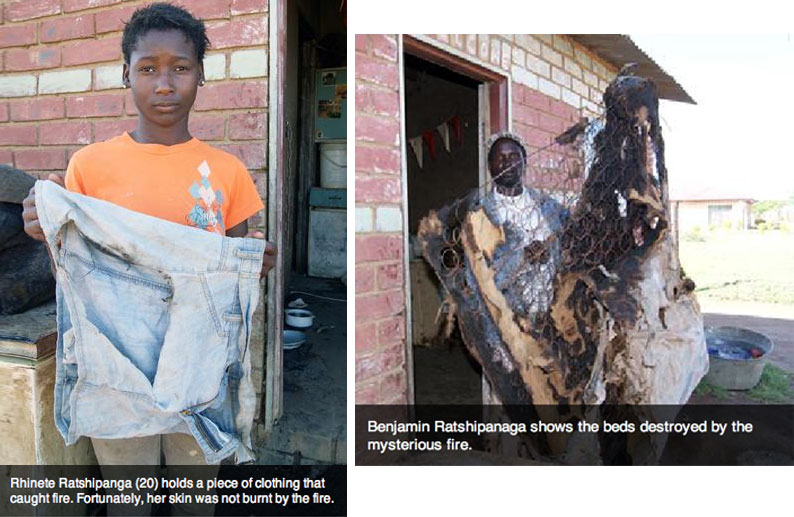 Firefighters from the Makhado Municipality arrived on the scene on Tuesday morning and managed to put out the fire, but not long after they left, the fire erupted again. On Wednesday, the Makhado Municipality delivered food parcels and blankets to the family. Later that same day, the fire started again and destroyed some of the blankets. Several valuable household items were also damaged by the fire. These include sofas, clothes, a stove, fridge, beds and even food.
The unemployed Benjamin says he never thought something like this would happen in his house: "I am stunned, because people claim it can happen if you have debts or have a grudge against somebody." According to him, he does not harbour grudges against anybody. He appealed to people to come and pray for the family, so that the fire can stop.
A religious leader, Alpheus Mudau of True Worshipper Christian Centre, appealed to the community to help the Ratshipanga family. Mudau called upon pastors to pray for the family who are having sleepless nights because of this fire. The Limpopo Traditional Health Practitioner's General Secretary, Mbulaheni Neluvhola, said they would also investigate if there were any of their members who might be supplying people with the type of concoctions that could cause such fires.
Tshilwavhusiku SAPS spokesperson Const Godwin Mahuwa confirmed that a fire had erupted at the Ratshipanga family's home. Mahuwa said they would send their experts to investigate.
Benjamin appealed to people who want to help with food, clothes or any other goods to call him at 0726050889.
Analysis
These recurring spates of spontaneous fires are certainly not caused by grudges or debts, but are the direct result of ongoing surges in solar activity, which culminated in dramatic X and M-class flares on November 4th and 5th.
Mr. Ratshipanga reports that the fires began to flare up on Monday, November 7th, suggesting the surge in infrasound resonance that generated these Tshiozwi fires was directly caused by the M3.7 solar flare of November 5th.
Burnt mattresses have been a hallmark of this phenomenon of spontaneous combustion by focused infrasound resonance, and Mr. Ratshipanga has been photographed holding up his examples. Quite clearly the metal coils have become spontaneously heated by ultra low frequency waves that rapidly superheat the metal mattress frame coils, thereby igniting the flammable fabrics of the mattress exterior.
The astounding recent history of spontaneous combustion of bed mattresses and clothing on metal hangers has been well documented in news articles from many continents of the world with increasing frequency. Metal-spring bed mattresses were regularly identified as the first things that ignited spontaneously, in Canneto di Caronia, Sicily; Kota Baru, Indonesia; Kakori, India; Onakaheke, Namibia; Hopewell, South Africa; Enmore and D'Urban Backlands in Georgetown, Guyana; Melipilla, Chile and Corvallis, California.
The comprehensive mathematical analyses provided on each page dedicated to these cases references the GPS relationship of each site with the apex of the Great Pyramid of Giza, Egypt, which act as anonlinear lensing system for focusing terrestrial infrasound standing waves. In every case of spontaneous fires studied, the geopositioning proves to conform to the quadratic formula [ zn+1 = zn2 ].
Tshiozwi, South Africa (23.09°S 29.79°E) is 3,649 miles from Giza, Egypt, a distance that comprises 14.7% of the Earth's mean circumference distance (of 24,892 miles). The south face of the Great Pyramid points exactly south - toward Tshiozwi - and this same alignment is witnessed of the other cases of spontaneous fires in South Africa, especially in Hopewell, Mapuve and Bodibe.
The curious fact of this matter is that the Ratshipanga household has unknowingly been built upon the exact spot of an ancient sacred site, where sacred fires once burned, and are now burning again.
There is nothing 'strange' about something that has been and can be predicted using known physics. This phenomenon was mysterious back in the days of Charles Forte, but the known physics of infrasound standing waves discovered by Nikola Tesla (during that same time period) perfectly explains these piezoelectric fires!
Local municipal governments must be made aware of these scientific findings and be provided with this important information to help protect their endangered residents.
According to this awareness, based on geopositioning data presented here and cross-referenced with the parallel case histories of hundreds of other very similar events, the logical conclusion is that these hotspots of infrasound resonance must be evacuated before more lives are lost in piezoelectric explosions - the most dangerous event related to this phenomenon.
Other widely reported examples of such extreme manifestations of this resonance are now simultaneously occurring in Tenerife, Freetown, Babura, Abuja, Bauchi, Jos, Omukondo, Onakaheke, Tsholotsho, Lalapansi, Goodhope, Nairobi, Mpumalanga, Mapuve, Bodibe, Bloemfontein, Hopewell, Cape Town, Landovica, Galway, Longford, Glasgow, Dublin, Crewe, Waterford, Peterborough, Coventry, Hull, London, Surrey, Steeple, Egham, Wisbech Messina, Peschici, Berici, across northern Greece, Ratria, Kakori, Mumbai, Kolkata, Charajpura, Thiruvananthapuram, Gangyal, Kishtwar, Rangrik, Kota Baru, Kuala Lumpur, Santo Tomas, New Norcia Darwin, Rockhampton, Adelaide, Brisbane, Eaglehawk, Sydney, Georgetown, La Pampa, Melipilla, Nelson, and in the US in Seattle, Corvallis, Soudan SP, Minneapolis, New Ulm, Pueblo, Waxahachie, Georgetown, Homosassa, San Mateo, Vallejo, San Francisco, Clovis, Calaveras, Haverhill, Peabody, Brentwood and New York City.